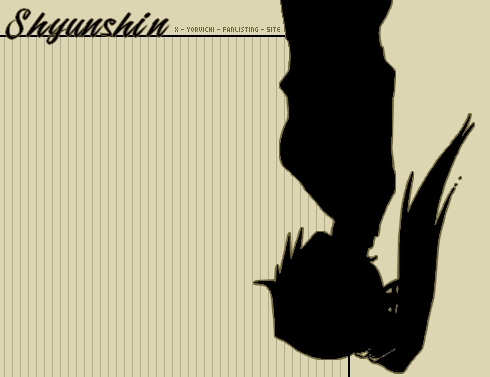 ... to this fanlist, which is listed at The Anime Fanlistings Network, dedicated to the gorgeous character Shihouin Yoruichi, from the anime, manga and games Bleach. more?
According to AnimeFLs, a fanlisting «is a web clique that lists fans of a particular subject» (here, as said, of a character).
So, if you are a fan of her, come on and join the fanlist!
NAVIGATION: above this content, and below the layout's image.



Owner: Yoio
Former owner: Rukia
Script used: Enthusiast
Last updated: 25th March 2017
Member count: 664
Pending members: 0
Newest members: Eku53ru

Current skin:


I do NOT own Bleach+. Everything here is © Kubo Taito, Shueisha, Pierrot and TV Tokyo, unless the specified.
Images: BleachSp.com's scans
Information: Anime News Network (seiyuu)
Fonts: Arial, Arial Black, Arial Narrow, Times New Roman, 04b_24, 4 Magic DNA and some more.


Do NOT steal